Aluminium Front & Back Doors
Your entrance door defines your home. With over 400 standard aluminium door designs we allow you to create your own unique model. Designed to be virtually burglar-proof, the way we combine the aluminium profiles with high-security locks and handles ensures your security at home.
Glass Options
Our S-500 Series doors are all fitted with three panes of 6 mm heat protection glass (Ug=0.5 W/m K). You can select from ornamental, clear, satin and safety glass or fluted and leaded glass..
You can also choose a glass motif from the catalogue or a custom design for free. Why not, integrate your house number or street name into the glass?
Thermal Insulation
The S-500 Series entrance doors provide extraordinary thermal insulation. With leaf-enclosing infills on both sides (85 mm thick), three circumferential seals and three panes of window protection glass (U-value 0.5 W/m2K), you can be assured of thermal efficiency and comfort in your home.
Exceptional Structure
With 3mm thick aluminium walls in all Schüco profiles, the stability of each door is 100% guaranteed. This is combined with 3-piece security barrel hinges and a patented sash design with the Spitfire special dilation layer, that prevents distortion even under extreme weather conditions.
To view some of our recently completed door installations just see our Gallery.
Download S-500 Brochure
Download S-200 Brochure
REQUEST A CALLBACK
Simply fill in this form and we'll call you to discuss your project. We then offer a free no obligation quote based on your requirements.

Alternatively, call 01458 445565
Aluminium doors
The perfect range of aluminium doors Somerset homeowners will love, from front door replacements to exterior doors..
Glazed aluminium doors and windows are a perfect front or exterior door solution - stylish by design, durable by nature and versatile enough to work in virtually any residential door or window solution you can think of.
Aluminium front doors not only provide Somerset homes with a modern finish - they provide an increased sense of security from their sturdy, yet light, construction. Exterior doors, such as aluminium french doors, or sliding aluminium doors, are perfectly suited to countryside living. Lightweight and durable, they will stand the test of time and weather - and allow you to appreciate the beauty of Somerset in summer and winter alike.
We have completed successful door installation work of aluminium doors and windows for residents all over Somerset. We will ensure you find the right aluminium door design for your home - and with our wealth of experience, we're confident we can find it for you. We have a vast catalogue of door designs to choose from, whether you are looking for the latest folding aluminium doors, or an aluminium front door replacement.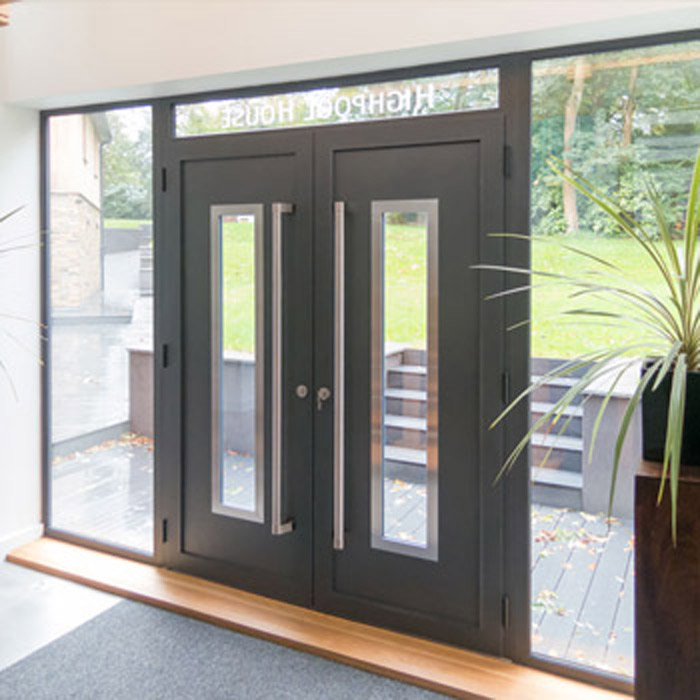 Design An Entrance
Design your aluminium door from scratch or customise an existing style from over 400 different entrance door models. We offer every RAL colour or combination of colours, durable wood-effect detailing and fully textured surface finishes to compliment your home.
Why choose aluminium doors or windows?
Aluminium is a uniquely adaptable material. Being lighter in weight than other metals such as steel makes it the perfect choice for sliding doors; not only will the aluminium door glide along its frame with ease, but it can withstand the heavy use of active, busy Somerset families coming and going with minimal wear and tear.
It's versatility also makes aluminium doors easier to design and manufacture. Somerset homes are sprawling with distinctive, memorable architecture that often requires special designs and fitting. As well as being lasting and stylish, aluminium doors are more straightforward to manufacture, therefore allowing us to design and install doors in your home faster.
Extensive choice of finishes and glazing options to choose from
Energy saving Thermal Insulation
The latest in security features to keep your home more secure
Huge range of colours to choose from
Hardware rigorously tested to ensure outstanding performance
10-year guarantee as standard on aluminium doors
You can select from our standard RAL colours or a special RAL colour in gloss or matt versions. For a unique and original appearance, choose from our fine structure colours, 20 wood decors as well as dual colour or multi-coloured.
Spitfire S-500 Series aluminium doors have a baked-on powder coated paint finish which guarantees colour durability, weather resistance and low maintenance.
You are free to specify the most suitable locking system and security upgrades for your door from our range of high performance locks. Spitfire doors have been tested and passed level 2, at the most highly regarded test house in Europe, the Rosenheim Institute in Germany.
How much do aluminium doors and installations cost?
It's difficult to estimate how much you'll need to pay for the door itself and the cost of door installation because every home – and every desired style for a home – is unique. Get in touch once you've browsed our site and know how you would like your home to look or once you have an idea in mind, we will be delighted to discuss the right product and cost with you.
You can be sure that whatever your needs, you can rely on us to be reasonable and upfront about our costs, and always willing to discuss anything you're unsure about.
Contact us now
Not quite what you are looking for?
Our entrance doors are available in these other stunning options
Let's discuss the right product for you. Call a member of our team on 01458 445565
Or simply complete our online form to book an appointment